Overview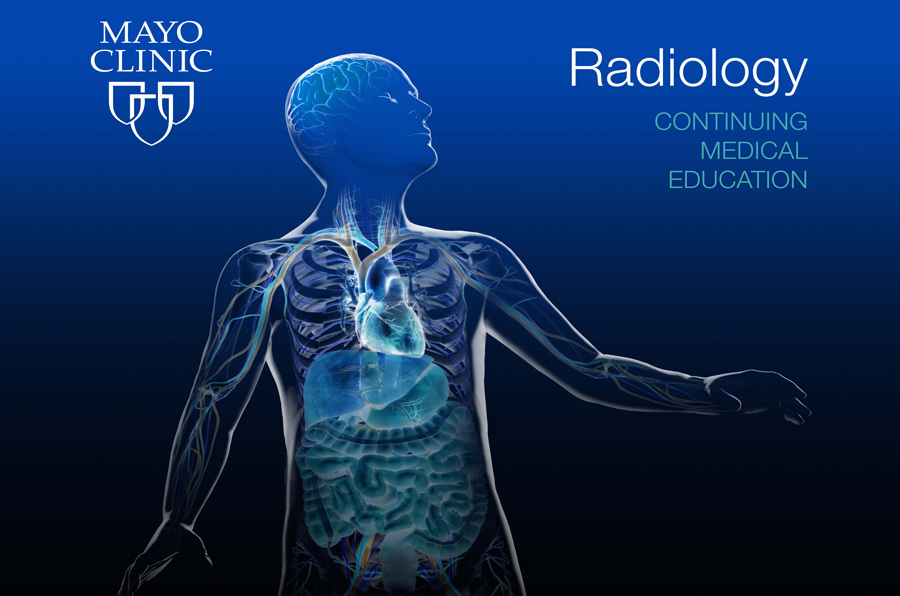 Course Description
Tutorials in Diagnostic Radiology is a postgraduate course designed to update the diagnostic radiologist on new trends, relevant techniques, and practical applications in diagnostic imaging. The latest advances will be emphasized and related to common problems encountered in clinical practice.
This enduring material is a recording of the Tutorials in Diagnostic Radiology course (January 19-23, 2014) in streaming video and pdf format. Physician participation in this activity consists of reviewing the videos and completing the evaluation and exam. It is estimated that this activity will take 24.75 viewing hours to complete.
Date of Original Release: November 20, 2014
Last Date of Sale: October 20, 2017
Credit Must be Claimed: November 20, 2017
Duration/Completion Time: 24.75 hours
Course Learning Objectives
Upon conclusion of this program, participants should be able to:
Review utility of cardiac CT in emergency department chest pain patients
Discuss consensus guidelines for follow-up of small, incidental pancreatic cystic masses
Discuss how specific imaging features and location guide the differential diagnosis of intracranial cystic lesions
Recognize the utility of BI-RADS for daily breast imaging practice
Identify imaging features of pericardial diseases
Review key radiographic, and MR arthrographic findings necessary for the diagnosis of Femoroacetabular Impingement (FAI)
Review current role of CT and MR imaging for surgical and catheter based interventions
Discuss the role of percutaneous biopsy in the diagnosis of lymphoma
Review the common errors made in breast imaging reports
Participation in this Mayo course does not indicate nor guarantee competence or proficiency in the performance of any procedures which may be discussed or taught in this course.
Program
Breast Imaging
ACR Appropriateness Criteria for Breast Cancer Screening
Ultrasound Guided Breast Biopsy: Fundamentals and Advanced Techniques
Male Breast Disease
Seed Localization of Breast Cancer
Approach to Breast Calcifications
Mammographic Missed Cancers: What We Can Learn
Automated Whole Breast Ultrasound: Initial Mayo Clinic Experience
DCIS: Initial Detection and Assessment of Extent of Disease
BI-RADS Review and Update
The Breast Imaging Report: Do's and Don'ts
Musculoskeletal Imaging
Imaging Evaluation of Femoroacetabular Impingement (FAI) – Part I and Part II
Advanced Imaging of the Foot and Ankle
Incidental MSK Osseous Lesions: When to Worry
MR Imaging: The Skinny on Fatty Tumors
Advanced Imaging of the Wrist
Sports Tumors Around the Knee
Incidental MSK Soft Tissue Lesions: When to Worry
Neuroradiology
Multimodality Imaging of the Parathyroid Glands
Pathology of the Neck: A Case-Based Approach
Lessons in Spine Imaging: A Case-Based Review
Head and Neck Imaging: Pearls and Pitfalls
The Cystic Brain Lesion
Cognitive Decline: Transitioning from Proton to Photon? – Part I and Part II
The Opacified Paranasal Sinus: Approach and Differential
Lessons in Temporal Bone Imaging: A Case-Based Review
Imaging the Patient with Headache
MRI of Peripheral Nerves: Brachial and Lumbosacral Plexus – Part I
MRI of Peripheral Nerves: Extremities – Part II
Abdominal Imaging
MDCT of the Acute Colon CT and MRI Evaluation of Solid Renal Masses
Spots in the Liver: MR Diagnosis of Malignant Liver Lesions
Difficult Abdominal CT Cases: Missed Masses
CT of the Acute Abdomen: Life-Saving Diagnoses You Need to Make
Prostate MRI: Routine Staging and Advanced Techniques
Spots in the Liver: MR Diagnosis of Benign Liver Lesions
Incidental Pancreatic Cystic Masses by CT: What to say? What to do?
Oncologic Imaging: Lymphoma – Part I and Part II
Cardiac Imaging | Interventional Radiology | Thoracic Imaging
Catheters and Filters: What Should I Know
Cardiac CT in the ED: Role of the Triple Rule-Out Evaluation
CT After Aortic Endografts: What You Need To Know
CT Evaluation of Transcatheter Aortic Valve Replacement (TAVR)
Imaging and Angiographic Intervention After Vascular Surgery
Common Indications, Uncommon Diagnoses
Interstitial Lung Disease
Reducing Missed Lung Cancer
Pulmonary Vein Imaging by CT and MR
Pericardial Imaging by CT and MR
Credit
Mayo Clinic College of Medicine is accredited by the Accreditation Council for Continuing Medical Education to provide continuing medical education for physicians.
Mayo Clinic College of Medicine designates this enduring material for a maximum of 24.75 AMA PRA Category 1 Credits™. Physicians should claim only the credit commensurate with the extent of their participation in the activity.
This enduring material activity meets the criteria for self-assessment toward the purpose of fulfilling requirements in the ABR Maintenance of Certification program.
This activity includes 4.5 mammography, 7 magnetic resonance imaging, 6.25 computed tomography, 5.0 ultrasound, and 2.0 nuclear medicine credits.
CME credit is obtained upon successful completion of a post-course quiz and program evaluation. The quiz must be successfully passed with 80% or higher within two attempts.
Other Health Care Professionals
A certificate of attendance will be provided to other health care professionals for requesting credits in accordance with state nursing boards, specialty societies, or other professional associations.
Date of Original Release: November 20, 2014
Last Date of Sale: October 20, 2017
Credit Must be Claimed: November 20, 2017
Duration/Completion Time: 24.75 hours
How Do I Receive My Certificate of Attendance?
Complete the following steps:
View the online videos.
If not already logged in, sign in at https://radiologyeducation.mayo.edu/.
Navigate to My Account, My Dashboard, Self Studies.
Click "Evaluation

Not started

→Start

" under program title.
When evaluation is finalized, click Generate certificates now.
Enter your actual hours of attendance, up to the specified maximum, and Save Changes.
On certificate page, click Generate Certificate in upper right and save or print your certificate. Note: If you need to retrieve a certificate later, sign in to your account using the instructions above and click My Certificates.
How Do I Receive My SA-CME Credits?
On January 4, 2016, the ABR released simplified attestation in myABR. With simplified attestation, you can no longer manually enter licensure, credits or PQI information into myABR. All you will have to do is attest, (by clicking 'I Attest'), to completing all MOC requirements such as CME/Self-assessment and PQI. You do not need to submit CME certificates or documentation of PQI projects/activities to the ABR. However, we do recommend that you save all of your CME certificates and PQI documentation in case you are selected for a random audit in the future.
Please note: By logging into your myABR account, you may export previously entered credits into an excel spreadsheet by clicking the 'Lifelong Learning' tab, followed by the export hyperlink.
Faculty
Course Directors
Mayo Clinic Course Faculty
Kimberly K. Amrami, M.D.
John M. Barlow, M.D.
David F. Black, M.D.
Andrew W. Bowman, M.D., Ph.D.
Jerome F. Breen, M.D.
Mellena D. Bridges, M.D.
Daniel F. Broderick, M.D.
Mark S. Collins, M.D.
Felix E. Diehn, M.D.
Patrick W. Eiken, M.D.
Robert T. Fazzio, M.D., Ph.D.
Chad J. Fleming, M.D.
Robert P. Hartman, M.D.
Christopher H. Hunt, M.D.
C. Michael Johnson, III, M.D.
Mark J. Kransdorf, M.D.
David L. Levin, M.D., Ph.D.
Roxanne Lorans, M.D.
Robert W. Maxwell, M.D.
Douglas A. Nichols, M.D.
Jeffrey J. Peterson, M.D.
Timothy J. Welch, M.D.
Doris E. Wenger, M.D.
Eric E. Williamson, M.D.
Faculty Disclosure
As a provider accredited by ACCME, Mayo Clinic College of Medicine (Mayo School of Continuous Professional Development) must ensure balance, independence, objectivity and scientifi c rigor in its educational activities. Course director(s), planning committee, faculty, and all others who are in a position to control the content of this educational activity are required to disclose all relevant fi nancial relationships with any commercial interest related to the subject matter of the educational activity. Safeguards against commercial bias have been put in place. Faculty also will disclose any off-label and/or investigational use of pharmaceuticals or instruments discussed in their presentation. Disclosure of this information will be published in course materials so those participants in the activity may formulate their own judgments regarding the presentation.
National Physician Payment Transparency Program
Mayo Clinic College of Medicine complies with the requirements of the National Physician Payment Transparency Program OPEN PAYMENTS (Physician Payments Sunshine Act).
Registration
Registration Fee: $585
Each online video purchase includes:
Downloadable comprehensive course syllabus
Online post-course quiz and program evaluation
AMA PRA Category 1 Credit™ for one person
May be viewed at any time from any device (with streaming video capabilities)
View Streaming Videos and Download Course Materials - upon finalizing your order, sign in at radiologyeducation.mayo.edu, navigate to My Account, My Dashboard, Self Studies, and click on Documents and Video under the course title.
For additional information, contact:
Mayo Clinic Department of Radiology
Continuing Medical Education Office
Mayo, W-2
200 First Street SW
Rochester, MN 55905
Phone: 866-246-1581 (toll free) or 507-284-3317
Fax: 507-266-3061
Website: radiologyeducation.mayo.edu
Email: radiologycme@mayo.edu
Purchase Options
---
Tutorials 2014 Streaming Video