Mayo Clinic Diagnostic Imaging: Update and Self-Assessment 2022
July 11th

-

July 15th, 2022


The Ritz-Carlton, Laguna Niguel, Dana Point, California
---
Faculty
Course Directors






Frederick Chen, M.D.

Assistant Professor of Radiology
Consultant, Department of Radiology
Division of Ultrasound
Mayo Clinic, Phoenix, Arizona





Marina E. Giurescu, M.D.

Assistant Professor of Radiology
Consultant, Department of Radiology
Division of Breast Imaging
Mayo Clinic, Phoenix, Arizona
Mayo Clinic Faculty
Deborah A. Baumgarten, M.D., M.P.H.
Professor of Radiology; Consultant, Department of Radiology, Division of Diagnostic Radiology, Mayo Clinic, Jacksonville, Florida
Melanie P. Caserta, M.D.
Assistant Professor of Radiology; Consultant, Department of Radiology, Division of Ultrasound Radiology, Mayo Clinic, Jacksonville, Florida
Joseph G. Cernigliaro, M.D.
Associate Professor of Radiology; Consultant, Department of Radiology, Division of Abdominal Imaging, Mayo Clinic, Jacksonville, Florida
Nirvikar (Nirvi) Dahiya, M.D.
Associate Professor of Radiology; Consultant, Department of Radiology, Division of Ultrasound Radiology, Mayo Clinic, Phoenix, Arizona
David J. DiSantis, M.D.
Professor of Radiology; Consultant, Department of Radiology, Division of Diagnostic Radiology, Mayo Clinic, Jacksonville, Florida
Ghaneh Fananapazir, M.D.
Senioar Associate Consultant of Radiology; Consultant, Department of Radiology, Division of Diagnostic Radiology, Mayo Clinic, Phoenix, Arizona
Jonathan A. Flug, M.D.
Associate Professor of Radiology; Consultant, Department of Radiology, Division of Musculoskeletal Radiology, Mayo Clinic, Phoenix, Arizona
Leland S. Hu, M.D.
Associate Professor of Radiology; Consultant, Department of Radiology, Division of Neuroradiology, Mayo Clinic, Phoenix, Arizona
Clinton E. Jokerst, M.D.
Associate Professor of Radiology; Consultant, Department of Radiology, Division of Cardiothoracic Radiology, Mayo Clinic, Phoenix, Arizona
Roxanne Lorans, M.D.
Assistant Professor of Radiology; Consultant, Department of Radiology, Division of Breast Imaging, Mayo Clinic, Phoenix, Arizona
Christine (Cooky) O. Menias, M.D.
Professor of Radiology; Consultant, Department of Radiology, Division of Abdominal Imaging, Mayo Clinic, Phoenix, Arizona
Ba D. Nguyen, M.D.
Associate Professor of Radiology; Consultant, Department of Radiology, Division of Nuclear Medicine, Mayo Clinic, Scottsdale, Arizona
Prasad M. Panse, M.D.
Associate Professor of Radiology; Consultant, Department of Radiology, Division of Cardiothoracic Radiology, Mayo Clinic, Phoenix, Arizona
Maitray D. Patel, M.D.
Professor of Radiology; Consultant, Department of Radiology, Division of Ultrasound, Mayo Clinic, Phoenix, Arizona
Jeffrey J. Peterson, M.D.
Professor of Radiology; Consultant, Department of Radiology, Division of Musculoskeletal Radiology, Mayo Clinic, Jacksonville, Florida
Jeffrey S. Ross, M.D.
Professor of Radiology; Consultant, Department of Radiology, Division of Neuroradiology, Mayo Clinic, Phoenix, Arizona
Kumar Sandrasegaran, M.D., Ch.B.
Professor of Radiology; Consultant, Department of Radiology, Division of Abdominal Imaging, Mayo Clinic, Phoenix, Arizona
William F. Sensakovic, Ph.D.
Associate Professor of Radiology; Consultant, Department of Radiology, Division of Medial Physics, Mayo Clinic, Scottsdale, Arizona
Richard E. Sharpe, M.D., M.B.A.
Assistant Professor of Radiology; Consultant, Department of Radiology, Division of Breast Imaging, Mayo Clinic, Phoenix, Arizona
Alvin C. Silva, M.D.
Professor of Radiology; Consultant, Department of Radiology, Division of Abdominal Imaging, Mayo Clinic, Phoenix, Arizona
Nelly Tan, M.D.
Associate Professor of Radiology; Consultant, Department of Radiology, Division of Abdominal Imaging, Mayo Clinic, Scottsdale, Arizona
Daniel E. Wessel, M.D., Ph.D.
Assistant Professor of Radiology; Consultant, Department of Radiology, Division of Musculoskeletal Radiology, Mayo Clinic, Jacksonville, Florida
Motoyo Yano, M.D., Ph.D.
Assistant Professor of Radiology; Consultant, Department of Radiology, Division of Abdominal Imaging, Mayo Clinic, Scottsdale, Arizona
Scott W. Young, M.D.
Assistant Professor of Radiology; Consultant, Department of Radiology, Division of Ultrasound, Mayo Clinic, Phoenix, Arizona
---
Faculty Disclosure
As a provider accredited by Joint Accreditation Interprofessional Continuing Education, Mayo Clinic College of Medicine and Science must ensure balance, independence, objectivity and scientific rigor in its educational activities. Course Director(s), Planning Committee Members, Faculty, and all others who are in a position to control the content of this educational activity are required to disclose all relevant financial relationships with any commercial interest related to the subject matter of the educational activity. Safeguards against commercial bias have been put in place. Faculty also will disclose any off label and/or investigational use of pharmaceuticals or instruments discussed in their presentation. Disclosure of these relevant financial relationships will be published in activity materials so those participants in the activity may formulate their own judgments regarding the presentation.
For disclosure information regarding Mayo Clinic School of Continuous Professional Development accreditation review committee member(s) please click here: https://ce.mayo.edu/content/disclosures.
National Physician Payment Transparency Program
Mayo Clinic College of Medicine and Science complies with the requirements of the National Physician Payment Transparency Program OPEN PAYMENTS (Physician Payments Sunshine Act).
Credit Types Offered
SAM credit is under review and will likely be available for this activity in the amount of:

18
Price: $1,250.00
Planning Ahead?
Download our Course Catalog!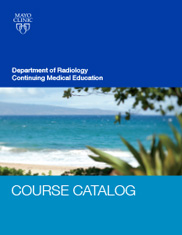 Newsletter Sign-Up