Overview
Course Description and Intended Audience
Collaborative 3D Printing in Medical Practice is a post-graduate course designed to update and introduce radiologists, surgeons, interventionalists, dentists, and administrators on uses of 3D printing of anatomic models. Creating accurate models of the anatomy contributes to improved postoperative results and increases surgical confidence in complex cases. It contributes to education at all levels of medical learners. Segmenting and printing techniques and practical application in medical care, research, and education will be reviewed. Surgeons and clinicians from various disciplines will share their Mayo Clinic experience detailing the benefit of the models to their medical and surgical practice.
Intended Audience:
Collaborative 3D Printing in Medical Practice is designed for physicians including radiologists, surgeons, and dentists interested in learning about 3D printing in medicine.
Course Learning Objectives:
Upon conclusion of this program, participants should be able to:
Summarize what 3D printing technology is and how it can be applied to imaging data to create anatomic models
Describe the new technologies used with 3D printing such as surface scanning and mold creation
Recognize the importance of quality assurance in 3D printing
Discuss the role anatomic models play in pre-operative surgical planning
---
Want to learn more about the event?
---
Course Date and Location
Collaborative 3D Printing in Medical Practice
February 23-25, 2018
Fairmont Scottsdale Princess
7575 East Princess Drive
Scottsdale, Arizona 85255
Attendance at this Mayo Clinic course does not indicate nor guarantee competence or proficiency in the performance of any procedures which may be discussed or taught in this course.
Credit Types Offered
AMA PRA Category 1™

14.75
Price: $750.00
Planning Ahead?
Download our Course Catalog!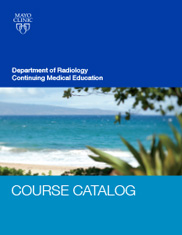 Newsletter Sign-Up