Overview
Course Description and Intended Audience
Mayo Clinic Diagnostic Imaging Update and Self-Assessment is a postgraduate course designed to provide practicing radiologists, residents and fellows-in-training with a review of state-of-the-art imaging techniques. "Focused days" (abdominal, bone, neuro) will be offered in response to prior participants' requests. Some of the presentations will be case based and include audience participation. Self-assessment modules (SAMs), required by the American Board of Radiology for maintenance of board certification, will be offered.
Course Learning Objectives
Upon conclusion of this program, participants should be able to:
Review genitourinary infections in a case based format
Present an overview of male breast disease
Discuss MRI imaging of the knee
Review common incidental osseous and soft tissue lesions at CT and MRI
Define borderline resectable adenocarcinoma of the pancreas
Discuss the management of thyroid nodules based on imaging features
Explore the most common and pertinent imaging findings at CT urography
Review imaging of the facial nerve (regional approach)
---
Want to learn more about the event?
---
Course Date and Location
July 16-20, 2018
The Ritz-Carlton, Kapalua
One Ritz-Carlton Drive
Maui, Hawaii
Attendance at this Mayo Clinic course does not indicate nor guarantee competence or proficiency in the performance of any procedures which may be discussed or taught in this course.
Future Course Dates and Locations
July 15-19, 2019
The Ritz-Carlton, Laguna Niguel
Dana Point, California
Credit Types Offered
AMA PRA Category 1™

24.25
Price: $1250
Planning Ahead?
Download our Course Catalog!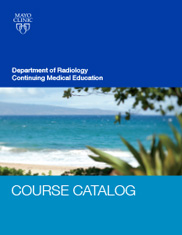 Newsletter Sign-Up