Overview
Course Description and Intended Audience
Neuroradiology: Practice to Innovation streaming video is intended to provide a practical review of common diseases involving the brain, head/neck, and spine. It will also provide an overview of common imaging strategies, as well as an update in new trends, relevant techniques, and applications in diagnostic and/or therapeutic neuroradiology. In addition, this course will review common endovascular and spinal interventional techniques utilized in neuroradiology.
Neuroradiology: Practice to Innovation is designed for the practicing radiologist whose work involves neuroradiology, or those involved in the neurourological sciences, neurosurgery, neurology, and/or related fields.
This enduring material is a recording of the Neuroradiology: Practice to Innovation course (November 8-12, 2015) in streaming video and pdf format. Physician participation in this activity consists of reviewing the videos and completing the evaluation and exam. It is estimated that this activity will take 21.5 viewing hours to complete.
Course Learning Objectives
Upon conclusion of this program, participants should be able to:
Summarize MRI safety guidelines
Discuss cerebral perfusion imaging
Describe semicircular canal dehiscence
Summarize MR spectroscopy and its clinical use
Discuss implications of operating a PET/MR in a clinical practice
Identify strengths and shortfalls of diffusion tractography
Describe cutting edge methods for detecting spinal CSF leaks
Participation in this Mayo course does not indicate nor guarantee competence or proficiency in the performance of any procedures which may be discussed or taught in this course.
Planning Ahead?
Download our Course Catalog!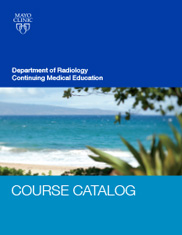 Newsletter Sign-Up