Overview
Course Description and Intended Audience
Radiology – Helping You Care for Your Patients: A Course for Nurse Practitioners, Physician Assistants and Primary Care Physicians is a continuing medical education course reviewing and discussing contemporary imaging approaches to common diagnostic problems in primary care medicine and surgery. A case-based approach will describe common patient signs and symptoms in outpatient and emergency settings and indicate best imaging practices for evaluation of these patients considering appropriateness, cost and safety. Emphasis will be placed on algorithmic approaches to radiologic tests when multiple imaging examinations become necessary. Information presented will be organized by differential diagnoses to keep it relevant to daily medical practice. The course is intended for nurse practitioners, physician assistants and primary care physicians who want to improve the quality of their patient care by increasing the value of the radiologic examinations they order.
This enduring material is a recording of the Radiology – Helping You Care for Your Patients course (September 10-11, 2016) in streaming video and pdf format. Physician participation in this activity consists of reviewing the videos and completing the evaluation and exam. It is estimated that this activity will take 12.5 viewing hours to complete.
Course Learning Objectives
Upon conclusion of this program, participants should be able to:
Identify appropriate, safe and cost-effective imaging options for the evaluation of common
problems in primary care
Develop differential diagnoses generated by common findings on radiologic tests
Determine algorithmic approaches to ordering multiple imaging studies
Assess strengths, weaknesses and relative costs of imaging modalities such as plain radiographs, ultrasound, CT, MRI, Nuclear Medicine and Mammography
Select basic image-guided interventional procedures
Participation in this Mayo course does not indicate nor guarantee competence or proficiency in the performance of any procedures which may be discussed or taught in this course.
Planning Ahead?
Download our Course Catalog!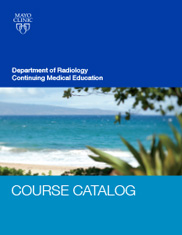 Newsletter Sign-Up