Overview
Course Description and Intended Audience
Tutorials in Diagnostic Radiology is a postgraduate course designed to update the diagnostic radiologist on new trends, relevant techniques, and practical applications in diagnostic imaging. The latest advances will be emphasized and related to common problems encountered in clinical practice.
This enduring material is a recording of the Tutorials in Diagnostic Radiology course (January 18-22, 2015) in streaming video and pdf format. Physician participation in this activity consists of reviewing the videos and completing the evaluation and exam. It is estimated that this activity will take 23.5 viewing hours to complete.
Course Learning Objectives
Upon conclusion of this program, participants should be able to:
Review the components of the breast imaging audit, how the statistics are calculated, and the normal range of values
Review the clinical indications and imaging techniques for the patient with headache
Discuss fundamental concepts and useful techniques of musculoskeletal lesion biopsies
Recognize the CT and MR enterographic features of Crohn's disease, small bowel tumors, and other causes of obscure GI bleeding
Identify useful clinical applications of fast, high-resolution MR imaging of the brain and spine
Recognize and diagnose non-atherosclerotic vascular diseases
Participation in this Mayo course does not indicate nor guarantee competence or proficiency in the performance of any procedures which may be discussed or taught in this course.
Planning Ahead?
Download our Course Catalog!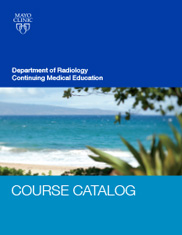 Newsletter Sign-Up