Mayo Clinic Radiation Oncology: Current Practice and Future Direction 2022
January 17th

-

January 21st, 2022


Hyatt Regency Maui, Maui, Hawaii
---
Posters
Abstract Submission for Poster Presentations
Overview:
Participants of the Mayo Clinic Radiation Oncology: Current Practice and Future Direction course are invited to submit abstracts for poster presentations. Goals of the poster presentations are to educate and inform about research innovations, share ideas and interest, and network with other participants. Previously presented materials are accepted. Posters of accepted abstracts will be displayed for viewing throughout the course. Please adhere to the guidelines below.
Abstract and Poster Format Guidelines:
Abstract submissions are limited to 400 words, excluding title, author, and institution information and should be submitted as a one-page, single-spaced Word document.
Abstracts should be organized into four sections: purpose/objectives, methods/ materials, results and conclusions.
Inclusion of tables and images is acceptable, but must be within the one-page abstract document.
The title should be at the top of the abstract in bold font followed by a complete list of authors including relevant degrees, department, and medical institution. Please identify the presenting author(s) with an asterisk (*).
For abstracts selected as poster presentations, the maximum poster size allowed is 3 feet tall by 4 feet wide. Poster display boards and Velcro will be provided to mount posters for display.
Submission Deadline and Instructions:
Abstract submissions are due by November 12, 2021, and can be submitted via email to radiologycme@mayo.edu.
Selection and Notification:
A review committee will evaluate poster abstracts based on the following criteria: scientific content, novelty, writing quality, and overall scientific merit. Notification of poster acceptance will be made via email by December 1, 2021. Additional information will also be sent at this time including when and where posters can be set up on-site.
For abstracts selected as poster presentations, scholarship will be offered to help with the course registration fee. Submissions that are accepted will be given $145 in scholarship . All presenters are still required to register for the meeting but will be given a special registration code that identifies your intended scholarship amount. Your registration fee will be $800. Mayo Clinic will not provide reimbursement for travel or lodging for presenters.
Questions:
Any questions regarding abstract submissions can be directed to the Mayo Clinic Department of Radiology CME Office at 866-246-1581 or radiologycme@mayo.edu.
Planning Ahead?
Download our Course Catalog!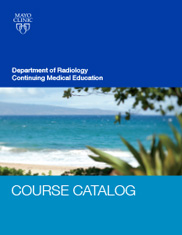 Newsletter Sign-Up