Mayo Clinic Radiation Oncology: Current Practice and Future Direction 2017
January 9th

-

January 13th, 2017


The Fairmont Kea Lani, Maui, Hawaii
---
Overview
Course Description and Intended Audience
Mayo Clinic Radiation Oncology: Current Practice and Future Direction is intended to provide balanced and multidisciplinary discussion of contemporary cancer treatment using didactic lectures, panel discussions, and poster sessions. The course will cover several specific clinical areas including stereotactic ablative radiotherapy, head and neck, gynecologic, and gastrointestinal cancers. The course will also address several important advances in the field, such as the use of stereotactic body radiotherapy, the role of surgery, proton therapy, advances in imaging and new chemotherapies, as well as how they are integrated into clinical practice.
This course is designed for radiation oncologists, radiation oncology residents, radiation biologists, radiation physicists, dosimetrists, oncologists working in related specialties, radiation therapists, radiation oncology nurses, oncologic surgeons, radiation oncology administrators, diagnostic radiologists, and all other health professionals involved in the field of radiation oncology.
Course Learning Objectives
Upon conclusion of this program, participants should be able to:
Discuss Stereotactic Body Radiation Therapy (SBRT) for primary and metastatic liver tumors
Describe spine anatomy and options for ablative treatment of spine lesions
Describe appropriate contours for organs at risk and target volumes in head and neck cancer
Explain the evolution of vulvar cancer treatment
Describe the criteria for a high-quality HDR plan for the treatment of cervical cancer
Discuss the use of radiation in the role of endometrial cancer
Describe radiotherapy and the surgical management of esophageal cancer
Summarize modern radiotherapy for rectal cancer
Course Date and Location
January 9-13, 2017
Fairmont Kea Lani
4100 Wailea Alanui Drive
Maui, Hawaii 96753
Attendance at this Mayo Clinic course does not indicate nor guarantee competence or proficiency in the performance of any procedures which may be discussed or taught in this course.
Planning Ahead?
Download our Course Catalog!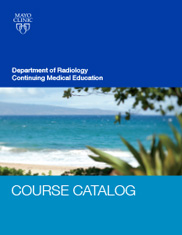 Newsletter Sign-Up